Sophie Tweed-Simmons: A Talented Jewel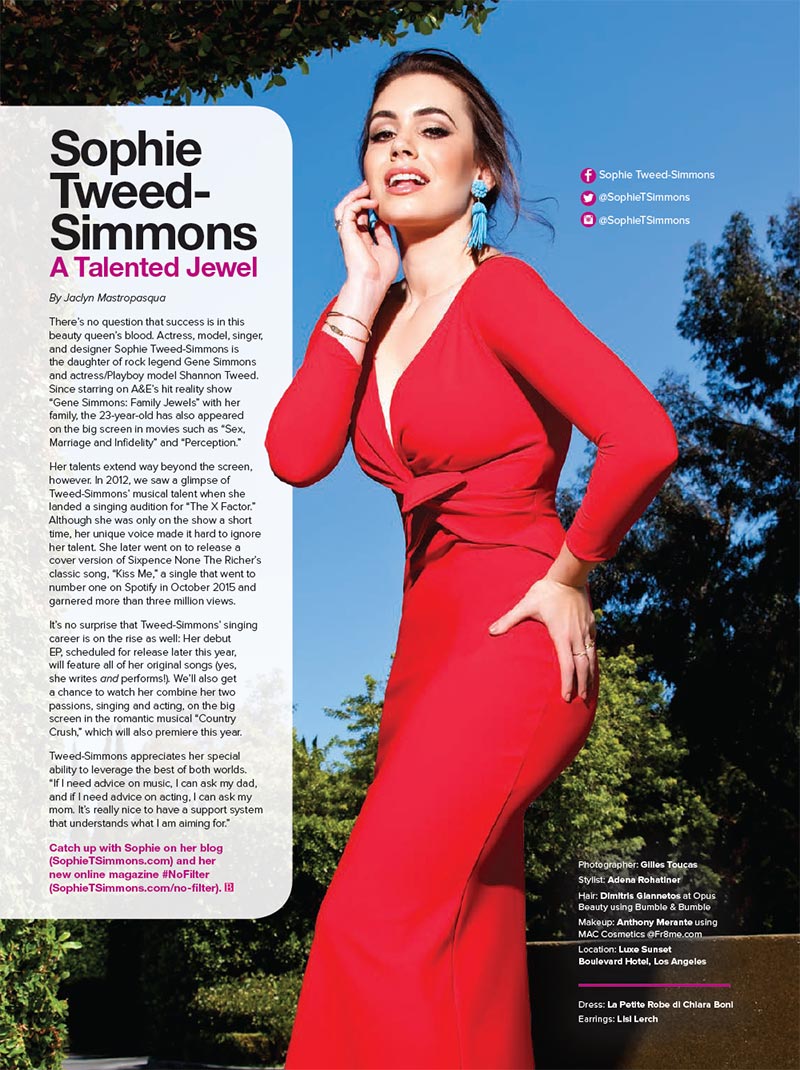 There's no question that success is in this beauty queen's blood. Actress, model, singer, and designer Sophie Tweed-Simmons is the daughter of rock legend Gene Simmons and actress/Playboy model Shannon Tweed. Since starring on A&E's hit reality show "Gene Simmons: Family Jewels" with her family, the 23-year-old has also appeared on the big screen in movies such as "Sex, Marriage and Infidelity" and "Perception."
Her talents extend way beyond the screen, however. In 2012, we saw a glimpse of Tweed-Simmons' musical talent when she landed a singing audition for "The X Factor." Although she was only on the show a short time, her unique voice made it hard to ignore her talent. She later went on to release a cover version of Sixpence None The Richer's classic song, "Kiss Me," a single that went to number one on Spotify in October 2015 and garnered more than three million views.
It's no surprise that Tweed-Simmons' singing career is on the rise as well: Her debut EP, scheduled for release later this year, will feature all of her original songs (yes, she writes and performs!). We'll also get a chance to watch her combine her two passions, singing and acting, on the big screen in the romantic musical "Country Crush," which will also premiere this year.
Tweed-Simmons appreciates her special ability to leverage the best of both worlds. "If I need advice on music, I can ask my dad, and if I need advice on acting, I can ask my mom. It's really nice to have a support system that understands what I am aiming for."
Catch up with Sophie on her blog (SophieTSimmons.com) and her new online magazine #NoFilter (SophieTSimmons.com/no-filter).